Structure Law Group, LLP Launches Business Law Firm in Austin, Texas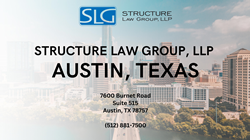 The opening of the Austin office is the reward of the years we have spent developing a sophisticated practice and a loyal clientele. We look forward to becoming an integral part of the Austin business law community.

AUSTIN, TX (PRWEB)
November 03, 2022
Structure Law Group, LLP is a Silicon Valley-based business law firm that represents clients in a full range of business law services tailored to the needs of businesses at all stages of development, from start-ups to large public companies. Structure Law Group has decades of experience advising technology and non-technology companies nationally and internationally, giving the firm a unique business law perspective they bring to Austin, TX.
Austin is considered one of the top tech hubs in the country and the numbers back it up. According to PitchBook, more than $5.5 billion was invested by venture capital in 412 deals in 2021. That number more than doubled from the previous year. CompTIA has named Austin, TX the nation's top city for tech jobs three years in a row. Austin's title "Silicon Hills" is well-deserved given the rapid expansion of its tech industry. Establishing a presence in Austin is a key strategic step in growing and strengthening the company's national footprint.
"Clients are delighted that Structure Law Group is able to support them locally and provide a national and international platform to facilitate growth and new business opportunities. The opening of the Austin office is the reward of the years we have spent developing a sophisticated practice and a loyal clientele. We look forward to becoming an integral part of Austin's business law community," said Krystle Warren, executive director of the firm.
Structure Law Group, LLP The Austin office is led by an experienced business attorney, Austin Jackson, who represents companies and individuals in a variety of business transactions and commercial disputes. "I am very pleased to embark on this new phase of growth with Structure Law Group, LLP. Austin, Texas has proven to be a booming city for business and technology. I am thrilled to be part of an entrepreneurial organization that supports our growing practice and to be able to offer our unique services to businesses in this great city. Austin Jackson, Structural Law Group
Structure Law Group's corporate attorneys represented clients during the early years of the Internet's popularity. At that time, the Internet was a virtual Wild West. There were few or no laws relating to digital communication, digital transactions and liability issues. Many of these issues had to be resolved before there was established case law or legislation that clarified potential disputes.
Structure Law Group's expansion into Austin represents decades of success helping startups and established businesses secure investment financing for businesses, creating a business structure that would maximize their profits, and avoiding potential legal pitfalls. that can arise when disruptive new technologies make their first impression.
Austin, TX has become one of the most exciting landing spots for venture capitalists, investors, and tech entrepreneurs. The Austin business attorneys at Structure Law Group are thrilled to announce this expansion into one of our nation's most exciting economies.
About Structure Law Group, LLP
Structure Law Group, LLP has offices in Silicon Valley, Los Angeles and Austin, Texas. Their attorneys are trusted advocates and advisors who provide corporate law and litigation services to startups and established companies in a range of industries across the country and internationally. Many of our Structure Law Group, LLP attorneys have been selected for recognition in Super Lawyers, Northern California Rising Stars, Southern California Rising Stars, and/or have received Martindale-Hubbell®, AV Preeminent Peer Review Rated 5.0 out of 5.0. Their services include investment finance, commercial litigation, mergers and acquisitions, employment law, rights of creditors and debtors, commercial real estate, and cryptocurrency. The firm is committed to providing high quality, affordable legal representation to new and established businesses.
For more information about the firm, visit http://www.structurelaw.com or contact us as indicated below:
Krystle Warren, Executive Director

Structural Law Group, LLP

(408) 441-7500

[email protected]

http://www.structurelaw.com
For more information on employment opportunities at Structure Law Group, LLP, please visit https://www.structurelaw.com/careers.html
Share the article on social networks or by e-mail: