Law Firm Targets Texas Schools' 'In God We Trust' Posters – NBC 5 Dallas-Fort Worth
An Austin-based law firm has sent cease-and-desist letters to at least four North Texas school districts over 'In God We Trust' posters that lawyers say don't comply with the law of State.
Under Senate Bill 797, schools are required to display signs or posters bearing the national motto in a prominent location provided the signs were donated to the school or purchased with private donations. .
The bill drafted by Sen. Bryan Hughes (R-Mineola) passed last year.
Trenton Lacy, an attorney with the Kaplan law firm in Austin, represents four North Texas parents from four different school districts: Carroll, Grapevine-Colleyville, Keller and Mansfield ISD.
"Under Texas law, there are only three things that can be on the sign," Lacy said Friday. "The problem with these signs is that the Texas flag is overrepresented on them. There are two depictions instead of one. There are also dozens of five-pointed stars strewn across the bottom of the signs. This all makes up a kind of superfluous information on the signs that just isn't by the state legislature.
Patriot Mobile donated the posters which Lacy says are not compliant. The company's website claims to be "America's only conservative Christian wireless service provider" and "donates a portion of every dollar earned to support organizations fighting for First Amendment religious freedom and free speech." , the second amendment right to bear arms, the sanctity of life and the needs of our veterans and first responders.
NBC 5 reached out to the company for comment on Friday. We have not received a response to date.
Laura Leeman is a mother of two children enrolled at Grapevine-Colleyville ISD. She and other parents put up posters that also read "In God We Trust", with "God" printed in a rainbow.
"Our schools are supposed to be inclusive and it seems very un-American to have only one God in any particular format," Leeman said. "I do this for my children. I think America, right now, we've had enough. I feel like democracy is at stake."
She added that her broader message goes beyond the signs.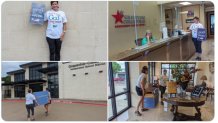 "I'm also trying to point out the ridiculousness of our legislature creating a bill and passing a bill only to have a sign that says 'In God We Trust' the way it was phrased," a- she declared. "I hope the legislature will respond. I hope voters will react. I hope more parents and members of our community respond, because this is ridiculous.
A Grapevine-Colleyville ISD spokesperson confirmed that the district had received a copy of the cease and desist notice, which is being evaluated. Likewise, a Keller ISD spokesperson confirmed that they received the cease and desist request.
"We routinely do not comment on pending or potential litigation matters," read an emailed statement.
A spokesperson for Carroll ISD said the district attorney is currently reviewing the notice he received.
NBC 5 has contacted a spokesperson for Senator Hughes about the matter. We have not heard back at the time of this writing.